3 Things to Know When Working with Diabetic Clients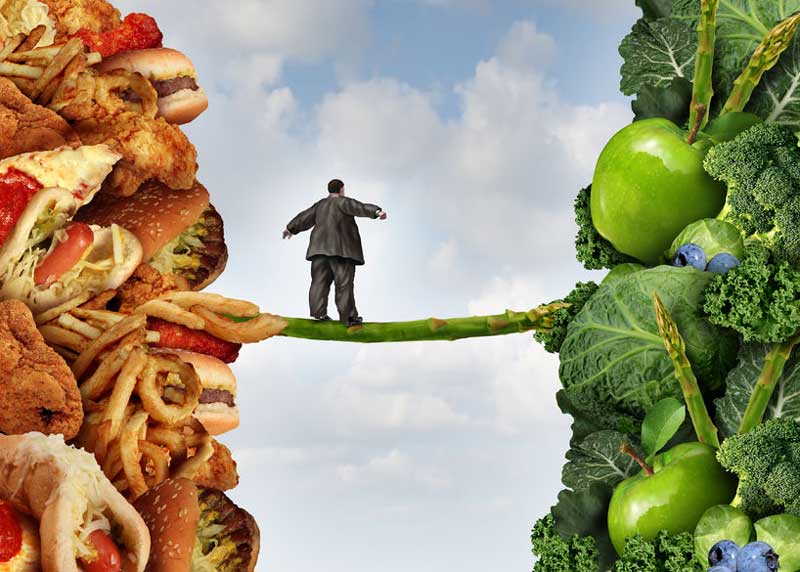 Copyright: lightwise / 123RF Stock Photo

Symptoms of Hypoglycemia
1.) Symptoms of Hypoglycemia
Prevention of hypoglycemia is important for a safe exercise program for someone who has diabetes. Anyone taking insulin or an oral medication that may cause hypoglycemia should be aware of symptoms and how to manage this situation especially during exercise. Hypoglycemia occurs when glucose levels are < 70mg/dl. This condition may become worse if not treated. Prevention is the best intervention. Symptoms may include:
sweating
shaking
dizziness
a headache
confusion
irritability
hunger
personality change
weakness
vision changes
seizures and/or loss of consciousness
2.) Exercise Blood Sugar Guidelines
Blood glucose should be checked and treated if the reading is below 70 mg/dl.
Treatment: It is recommended to follow the "Rule of 15":
Eat 15 grams of carbohydrate, wait 15 minutes, then eat another 15 grams of carbohydrates if there is no improvement in symptoms. (Lobb-Oyos 2012)
When exercising, blood glucose levels should be at least 100-110 mg/dl.
If not, a carbohydrate should be consumed and levels can be rechecked before starting to exercise.
Type 1 diabetics using insulin pumps may need to adjust insulin delivery during exercise and basal delivery rates for up to 12 hours post-exercise to avoid hypoglycemia. (ACSM 2013)
3.) Recommended Pre-Exercise Carbohydrate Intake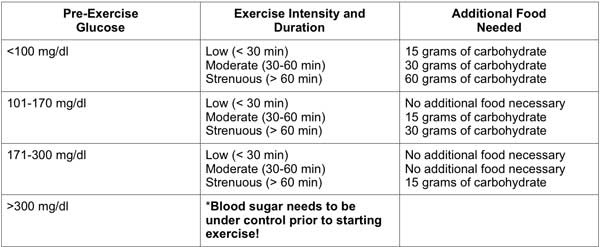 ---
*(Type 1 DM Glucose > 250 mg/dl: Check for ketones; if present, notify physician)
("Diabetes Medications: Guidelines for exercise safety" 2012)
For more information about working with clients with chronic disease, see the Fitness Learning Systems Chronic Disease and Exercise Specialist Certificate Program. Specialize and become recognized as a medical fitness professional. Fitness Learning Systems is an IACET accredited continuing education provider.
Link to Diabetes and metabolic Syndrome course and Chronic Disease Specialist Certificate
---