Wellness Wednesday Recipes - June 2017 | Ed 1
Spicy n' Peppery Tumeric Pork Chops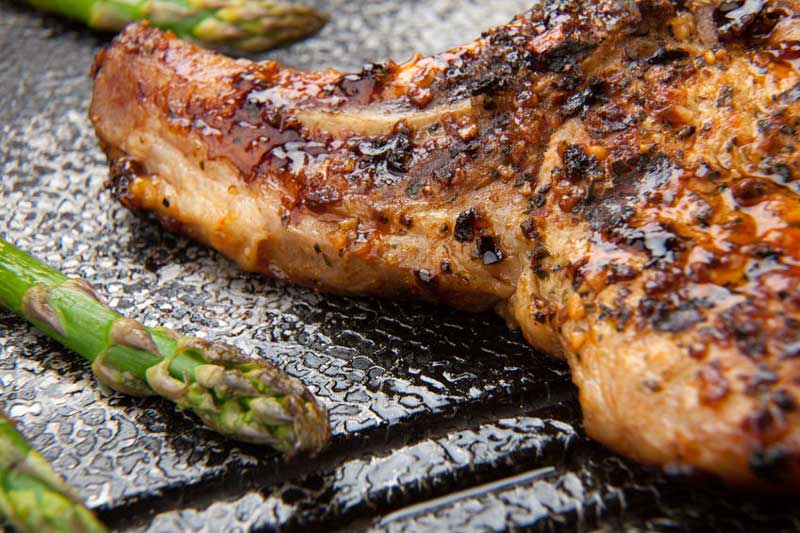 Copyright: evgenyb / 123RF Stock Photo


Tumeric has been used for thousands of years in Asia and India as a delicious spice, and as a medicinal herb in Chinese medicine.  It's what gives curry dishes its deep, bright yellow color. This earthy, peppery-flavored spice may also hold the potential for fighting inflammation. It contains curcumin which is the active, beneficial ingredient that when combined with black pepper, enhances its absorption and efficacy. Recently studies have also shown its blood sugar-lowering effects, thus reducing the amount of insulin released after meals. For some, snacking less, eating fewer carbs, and adding turmeric into their diets, may also aid in fat loss.
Tumeric pork chops, grilled or pan-fried is a sweet, tangy dish to try at your next summer BBQ. This dish has complex flavors but is simple to prepare. The sauce is not only gluten and paleo-free, it's also very versatile.  It can be used as a marinade or a dipping sauce over pork, chicken, beef, or seafood. This is the type of recipe you'll want to make often, and to have readily available in the fridge for those 'on-the-go' days.
Pro Tip: For maximizing the power of turmeric, combine with black pepper in savory recipes, smoothies, and tonics.
This recipe uses lean pork, serves 4 and total cooking time is only 30 minutes. Here's what you'll need:
2-4 garlic cloves

2 tablespoons freshly squeezed lime juice

1 tablespoon fish sauce

1 small jalapeno or chili pepper roughly chopped (optional)

A handful of cilantro leaves

1-2 teaspoon turmeric powder, plus more to season pork

4 boneless pork cutlets or thin pork chops

1 tablespoon coconut oil

1 shallot, finely chopped

A drizzle of honey (optional)

pinch sea salt for seasoning

Black pepper to your taste
Combine the coconut oil, garlic, lime juice, fish sauce, jalapeno or chili (optional), turmeric, and the cilantro in a blender. Blend the mixture into a smooth sauce. Use half of sauce as a marinade, reserving other half to pour over pork later.
Place pork in a zip lock bag. Use a meat mallet to flatten and tenderize the pork. Add sauce and marinate for an hour or two. Place in fridge until ready to cook. Remove and lightly season the pork with salt, black pepper and turmeric. In a skillet, saute shallots in heated coconut oil. Add the pork. Cook the pork 2-3 minutes on each side until lightly browned. Pour remaining sauce over chops. Serve with sautéed veggies as a low-carb option, over a serving size of garlic rice, or with a side of roasted potatoes. Garnish with cilantro, and enjoy adding the delicious, potential health benefits of turmeric to your meals! Share this recipe with your clients and friends, stay in the game and never stop learning!
Recipe by: Tammy@thefitprofoodie.com
---