Wellness Wednesday Recipes - May 2017 | Ed 1
Summertime Beet the Heat Recipe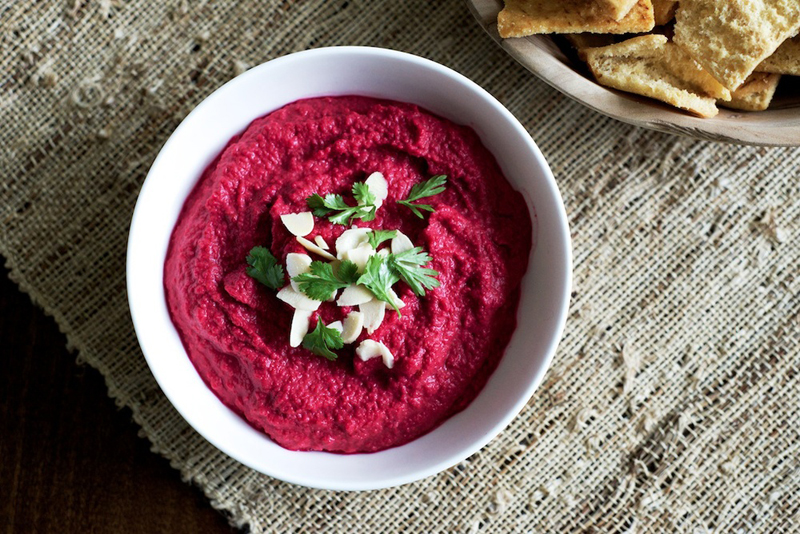 Roasted Beet Hummus Recipe
Eating this powerful anti-oxidant root supports your liver, fights inflammation and cancer. It's on the list of 'most recommended vegetable' lists. Beet roots are not only sweet and earthy, but also pack a powerhouse punch of nutrients that can improve our health in many ways. According to nutritional doctors such as John Douillard, author of The 3-Season Diet, consuming fruits and veggies which are in season, we may optimize on our nutrient absorption. This summer, eat the colors of the rainbow. Go for crimson red beets for supporting and detoxing the liver. The benefits of eating beets include the following:
Liver detoxification and support
Pigments in beets support our bodies' detoxification processes, and helps to purify the blood and liver.
Boosts Stamina
Need a boost to make it through your next workout? Drinking beet juice prior to exercise may reduce the oxygen cost of low-intensity exercise, as well as enhance tolerance to high-intensity exercise.
Fights Inflammation
Beet contain nutrients that helps protects cells, proteins, and enzymes from environmental stress. It's also known to help fight inflammation, protect internal organs, improve vascular risk factors, enhance performance, and likely help prevent numerous chronic diseases.
Rich in nutrients and fiber
Beets are high in immune-boosting vitamin C, fiber, and essential minerals such as potassium which is essential for healthy nerve and muscle function; they're also rich in manganese which is supports healthy bones, liver, kidneys, and pancreas functions.
Lowers Blood Pressure
Drinking beet juice has been shown to lower blood pressure as well as improve blood flow.
Reduces risk for cancer
Research says, the powerful phytonutrients that give beets their deep crimson color may help to ward off various forms of cancers, including pancreatic, breast and prostate.
This beet hummus recipe is so simple and the end result is as vibrant as it is delicious. Serve with crudités, mixed veggies or gluten-free crackers. You may also use tri-colored carrots, cauliflower and/or celery to enhance flavors. Top with a good quality olive oil, Herbes de Provence and/or pine nuts. This makes one generous sized bowl for dipping and sharing.

Ingredients:
1.5 cup red beets
1 15oz. can of organic chick peas drained and rinsed
4 cloves garlic, skin on
4 cloves garlic, peeled & minced
4 Tbsp. fresh lemon juice
⅓ cup Tahini
¼ cup olive oil, reserve more for roasting garlic & beets
¼ cup water
1 tsp each of sea salt & pepper to taste
1 Tbsp. Herbes de Provence seasoning
1 Tbsp. good quality olive oil
Preparation:
Pre-heat oven to 400°. In a small bowl using your olive oil sprayer, coat the beets and skin-on garlic and toss with a pinch of salt and pepper. Place on a small baking sheet and roast in the oven for 35-40 minutes until the beets are fork tender. Remove from oven and set aside. Using your blender, add the chick peas, and all the ingredients and blend until smooth. If consistency is too thick, add a little more water to the blender.
Chill the mixture in the refrigerator and when ready, scoop into the prettiest bowl, and garnish with pine nuts, olive oil and Herbes de Provence seasoning. Take eating the colors of the rainbow to the next level, eating the way nature intended. Learn more about liver health, inflammation-fighting foods and nutritional coaching today. Both your liver and your clients will thank you for it!


Recipe by: Tammy@thefitprofoodie.com
---