03 Apr 2017 / NAFC
NAFC NewsBlast - April 2017 | Ed 1
What is Fascia? The Intricate Web We Weave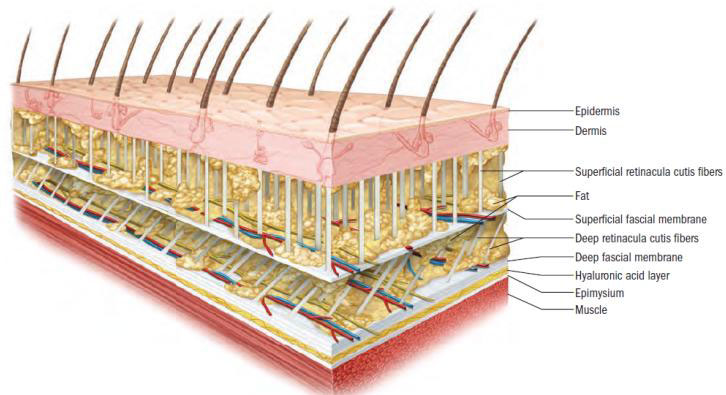 Fascia - The body's interconnecting web
Do you wonder why fascia has become such a hot topic? Apart from foam-rolling fascia to release tension from our tight hips, upper back and IT bands—fascia is fascinating because it runs deep.
What is fascia? Fascia can be described as the interconnected webbing that surrounds all of our joints. Understanding fascia and its role in movement, posture and functional training can be very useful in training, but also in everyday life. Fascia has been called the 'gateway of information' affecting us all on a physical as well as emotional level.
The following are a few ways we can remember the basic functions of fascia:

Important in joint stability
Surrounds all joints
An interconnected webbing of small nerves
Contracting muscles isometrically engages fascial tensioning
Fascia is called a gateway of information
Fascial tensioning can be felt from the foot (or floor) through the entire leg, into the deep core muscles. Correct application of fascial tensioning is a way of building stability in the joints during movement. Trainers should teach their clients how to stabilize before mobilizing, applying fascial tensioning techniques. Here are 3 examples you can apply now for improved stabilization:

Engage powerful legs in Warrior 1 & 2 (such as in the practice of yoga); cue students to isometrically squeeze midline while engaging their inner thighs;
Stagger your stance in Split Squats; be sure to square the hips, squeezing the front hip back and the back hip forward;
Stand on a single leg digging toes into the ground; think of picking up a small ball or a towel using the grip of your toes.
Also, to better understand the role of fascia during movement, understand the body's kinetic chain and its role on subconscious movements:


"Any movement, in any joint, has an effect on every other joint, up and down the body.
This is known as the kinetic chain. Micro-trauma, or strains in the muscles, joints, ligaments and fascia in one area of the body can lead to pain and postural issues in another area of the body along the kinetic chain. When someone moves their head left or right, for example, a slight, almost imperceptible movement from the foot up through the kinetic chain allows this to occur. The action of turning the head creates small movements in the ankle without causing pain. It is actually possible to assist in rehabilitating an ankle injury this way." (NAFC True Bar™)
Fascia is called a gateway of information by podiatrists and human movement specialists because it affects us all on physical, emotional and subconscious levels. In the health and fitness industry, fascia is as fascinating as it is misunderstood; it is truly an intricate web that we have woven within the human body.
Get stronger and more stable fast! When it comes to human movement, injury prevention and performance, it is crucial to understand how our joints' proprioceptive awareness lies within our fascia. Trainers and health and fitness pros can gain a training edge by learning how to apply effective isometric training and fascial tensioning. Ask about NAFC's True Bar™ course, apply dynamic joint stability and get your clients quicker results. Or, visit www.nafctrainer.com and experience 'live' a truly unique hands-on event, NAFC PURE Anatomy™ course. Want to improve client retention? Go deeper. Your clients will appreciate you more for it.


Tips by: Tammy@thefitprofoodie.com
---
03 Apr 2017 / NAFC
Wellness Wednesday Recipes - April 2017 | Ed 1
Blackberry Salmon Recipe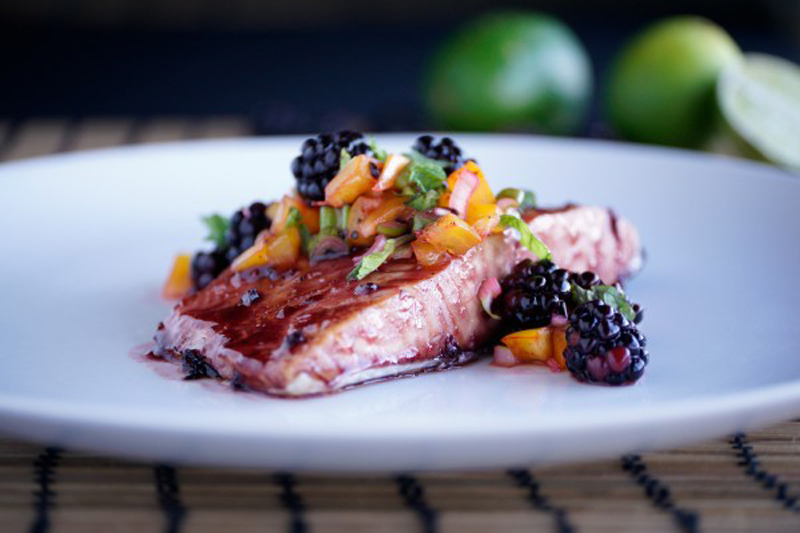 A Tasty Journey to the Pacific Northwest
Are you in a cooking rut? Perhaps it's time to get fancy-shmancy! This recipe will impress your friends and tantalize your tastebuds. Have you ever wanted to try to make a gastrique sauce? This blackberry salmon recipe involves making a delicious sauce called a gastrique. Basically, a gastrique is a fancy French word for a sweet and sour sauce. But don't let the fancy gourmet name fool you. This sauce is easy to make, unpretentious, and full of flavor.
Food can be transporting. What's fun about eating this dish is it'll transport your taste-buds to the Pacific Northwest where some of the world's freshest fishes are harvested and enjoyed. Be sure to buy wild-caught salmon as they tend to be higher in Omega-3's, and better for us. A four-ounce serving of salmon or other fishes high in Omega 3's two or three times a week will supply a beneficial dose of omega-3 fatty acids for most people. This recipe calls for salmon as the main protein, but this blackberry sauce will also compliment the flavors of pork, duck or chicken.
Wild Blackberries are also indigenous to the Northwest where the tastiest ones are ritualistically hunted for and enjoyed. The sauce for this recipe is made by boiling down blackberry puree, red wine vinegar, red wine, and sugar. Keep a jarred supply stored in the fridge and add to healthy dishes to be enjoyed throughout the week. Here's what you'll need:
Ingredients (Serves 2 people):

2 6oz. salmon filets
2 big handfuls baby arugula
1/4 red onion, sliced thin
Nutrition tip: Try coconut sugar or local honey as healthier options :)
For that fancy sauce:

1 cup red wine vinegar
1 cup red wine
1 cup blackberries (fresh or frozen) plus about 1/2 cup extra whole blackberries for garnishing
1/2 cup raw sugar or 1/8 cup (if watching your waistline)
Or try coconut sugar or local honey as healthier options
a pinch of sea salt
To prepare blackberry gastrique sauce: In a saucepan, combine vinegar, red wine and sea salt. Puree blackberries in food processor or blender. Strain blackberry puree into saucepan. Discard seeds/pulp. Bring mixture to a boil. Simmer until sauce is very reduced. Add sugar and continue boiling until sauce is thick and syrupy.
A 'No Fuss' Pro Tip: Haven't got the time to trudge through the forests of the Northwest for blackberries? Try replacing the puree with a blackberry preserve of your choice. About 2 tablespoons should do the trick. If replacing with preserves, remember to remove sugar from the above recipe.
To prepare seared salmon, preheat oven to 350 degrees. Salt and pepper salmon. In an oven-safe saute pan, heat oil on high heat (remember your good oils list. Hint: olive oil isn't it). Sear salmon for about 2-3 minutes, skin side down first, or until crusty. Transfer to oven for about 8-10 minutes or until cooked to your liking.
To assemble, place salmon over a bed of arugula or mixed greens salad, rice pilaf or garlic smashed potatoes. Drizzle with a generous spoonful of yummy blackberry gastrique sauce. Garnish with thinly sliced red onion and/or reserved blackberries. Boost your flavor profiles as well help your heart and brain health with this recipe and Bon appetite from your friends at NAFC.
Be a friend and share this recipe with those who need to up their Omega-3 intake today!


Recipe by: Tammy@thefitprofoodie.com
---
02 Mar 2017 / NAFC
NAFC NewsBlast - March 2017 | Ed 1
How A Pull-up Can Change Your Mindset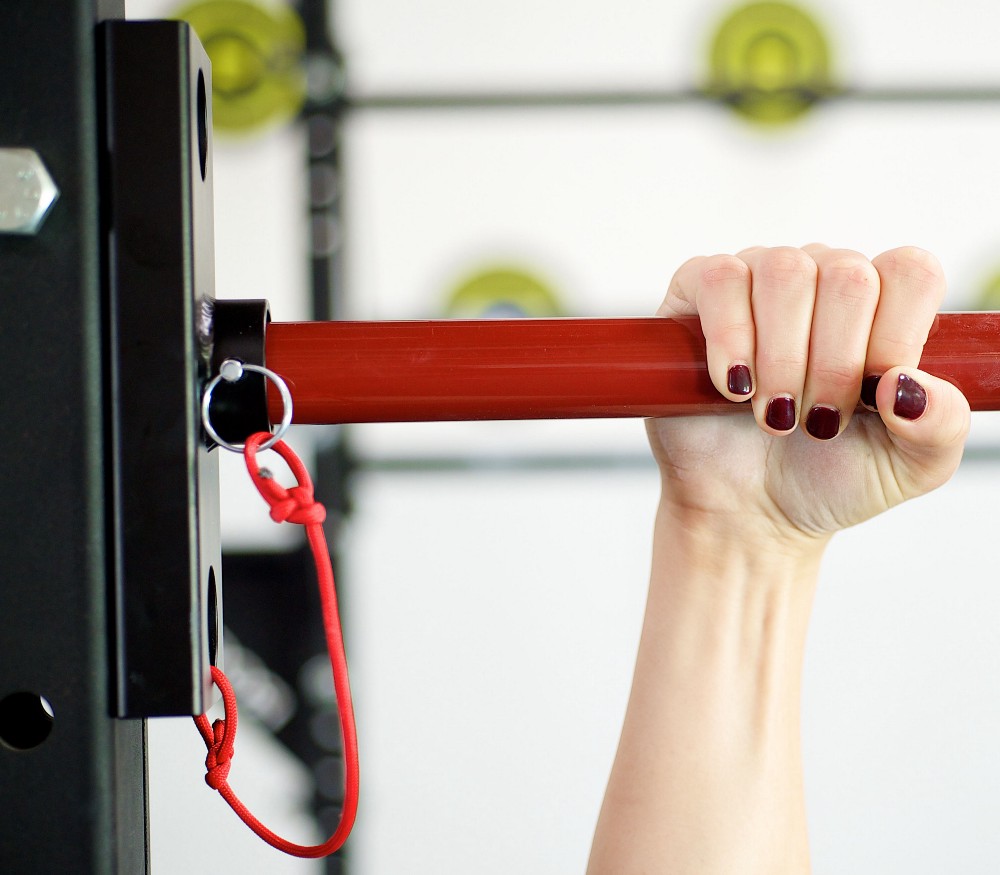 Setting your sights on Courage
Courage is defined as: the quality of mind or spirit that enables a person to face difficulty, danger, pain, etc., without fear; bravery; to have the courage of one's convictions, to act in accordance with one's beliefs, especially in spite of criticism.


Courage originally, meant "To speak one's mind by telling all one's heart."
Today, practice being Courageous. It's as simple as making a tiny physical shift on how your move and exercise. You don't have to be a superhero or to be big enough to move mountains to express Courage. You can embody it, no matter your size.


Today's training tip: Understand the Cross Leg Fault.
Prior to beginning a pull-up, hang off the bar. Set or 'seat' your shoulders into socket. Feel the blades draw downward toward your waist. Last but not least, uncross your legs! When you're better aligned, greater Courage will unfold. Find greater Courage in all your movements when you understand the human physiology better. Just remember, it's not the size of the person that counts, it's the size of their heart!
Article by Tammy@thefitprofoodie.com
---
1
2
3
4
5
6
7