15 Jun 2017 / NAFC
NAFC NewsBlast - June 2017 | Ed 1
Water the Critical Nutrient: How to Avoid Dehydration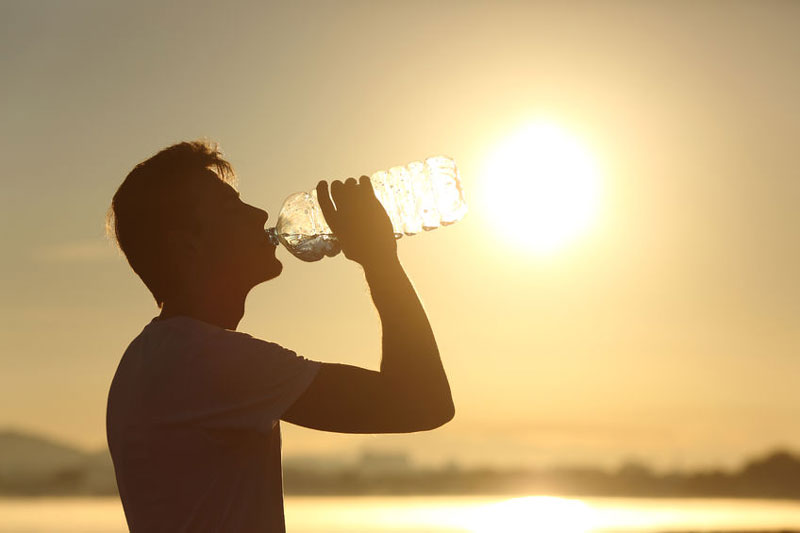 Copyright: antonioguillem / 123RF Stock Photo


Hydrate, Hydrate, ...then Hydrate
Summer is here and with it, the summer solstice arrives. Depending on where you are in the world this shift will occur on June 21-23rd. This will mark the longest day of the summer season, and people in various parts of the world will receive the most direct sunlight. With this comes the inevitable rise in temperatures, and thus, the increased need to hydrate.
How much water is enough to drink? If training outdoors, keep in mind that the hottest time of the day will be mid-afternoon even though the sun is the highest at mid-day. Help your clients to stay on a motivated path, beat the summer heat, and remind them about proper hydration. Tell them this:
Water is a critical nutrient and has been referred to as the 2nd most important nutrient after oxygen. Water is needed for survival. Studies show mild dehydration is one of the most common causes of daytime fatigue. This is a common problem particularly during the summer months. Estimates show that 75% of Americans have mild to chronic dehydration. This is alarming since proper hydration is required for maintaining healthy blood flow, proper kidney function, proper sodium/potassium /electrolyte balance and proper digestive functions.
According to NAFC Nutrition Coach, water gives us life. It also says, the human body is comprised of 65% water. Water is necessary for life to exist. It makes us healthier and it's incredibly refreshing especially after a workout. Water is not only the most important nutrient in the body, but also the most abundant.  It's critical to the balance of all the body's systems, including the brain, heart, lungs, kidneys and muscles. In fact, the body needs water for millions of metabolic processes, temperature control, fluid volume, and lubrication.
Is it possible to drink too much water and how much is enough? We're often told that drinking 8 glasses a day is best to stay healthy. But the truth is, this specific number is arbitrary and there's no scientific research that backs this. Regardless, we know that water is extremely important. In fact, every organism we know of requires water to survive. We cannot survive without water if attempting to go 3 days without it. NAFC's Nutrition Coach recommends the following rule-of-thumb formula for determining your optimum daily water intake:
Pro Tip 1: Consume between 1⁄2 to 1 oz. of purified water per day per pound of body weight depending upon your general activity level and your environmental conditions or surroundings.
This does not include compensation for losses due to exercise or excessive sweating. Add another 6-12+ ounces per 15-20 minutes of exercise depending on how hot it is, the relative humidity, and how much you sweat in relation to others under the same conditions.
We need to drink enough water to replace normal daily losses via perspiration, waste removal, and breathing. The following factors also contribute to the need for increased water consumption:
Increased or hot weather

Increased workload

Increased respiration

Increased bowel movements

Large amounts of caffeine or sugar consumed
Although the exact amount of water needed per day is undetermined by scientists, this depends on the individual.  Athletes need more as they tend to lose more water through sweat and breathing.  So, for athletes, thirst may not be the best indicator of the need to drink more water.
Pro Tip 2: Have water readily available at all times and never rely on just thirst alone.
For optimal performance, learn more about the importance of electrolyte balancing.
Ask about NAFC's Sports Performance and Nutrition Coach courses. Understand how to avoid serious electrolyte disturbances, such as dehydration and over-hydration. Share these tips with your clients. Give them the tools to stay on a motivated as well as a properly-hydrated course today. Stay in the game and never stop learning! 
Tips by: Tammy@thefitprofoodie.com
---
15 Jun 2017 / NAFC
Wellness Wednesday Recipes - June 2017 | Ed 1
Spicy n' Peppery Tumeric Pork Chops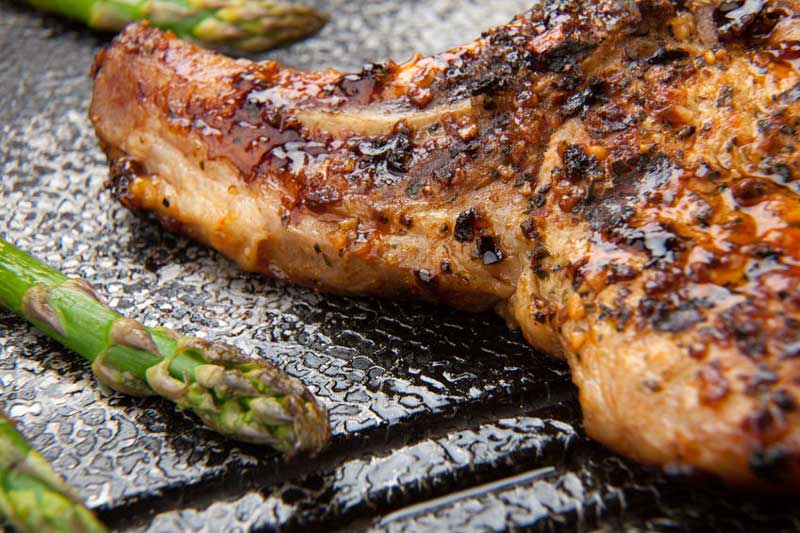 Copyright: evgenyb / 123RF Stock Photo


Tumeric has been used for thousands of years in Asia and India as a delicious spice, and as a medicinal herb in Chinese medicine.  It's what gives curry dishes its deep, bright yellow color. This earthy, peppery-flavored spice may also hold the potential for fighting inflammation. It contains curcumin which is the active, beneficial ingredient that when combined with black pepper, enhances its absorption and efficacy. Recently studies have also shown its blood sugar-lowering effects, thus reducing the amount of insulin released after meals. For some, snacking less, eating fewer carbs, and adding turmeric into their diets, may also aid in fat loss.
Tumeric pork chops, grilled or pan-fried is a sweet, tangy dish to try at your next summer BBQ. This dish has complex flavors but is simple to prepare. The sauce is not only gluten and paleo-free, it's also very versatile.  It can be used as a marinade or a dipping sauce over pork, chicken, beef, or seafood. This is the type of recipe you'll want to make often, and to have readily available in the fridge for those 'on-the-go' days.
Pro Tip: For maximizing the power of turmeric, combine with black pepper in savory recipes, smoothies, and tonics.
This recipe uses lean pork, serves 4 and total cooking time is only 30 minutes. Here's what you'll need:
2-4 garlic cloves

2 tablespoons freshly squeezed lime juice

1 tablespoon fish sauce

1 small jalapeno or chili pepper roughly chopped (optional)

A handful of cilantro leaves

1-2 teaspoon turmeric powder, plus more to season pork

4 boneless pork cutlets or thin pork chops

1 tablespoon coconut oil

1 shallot, finely chopped

A drizzle of honey (optional)

pinch sea salt for seasoning

Black pepper to your taste
Combine the coconut oil, garlic, lime juice, fish sauce, jalapeno or chili (optional), turmeric, and the cilantro in a blender. Blend the mixture into a smooth sauce. Use half of sauce as a marinade, reserving other half to pour over pork later.
Place pork in a zip lock bag. Use a meat mallet to flatten and tenderize the pork. Add sauce and marinate for an hour or two. Place in fridge until ready to cook. Remove and lightly season the pork with salt, black pepper and turmeric. In a skillet, saute shallots in heated coconut oil. Add the pork. Cook the pork 2-3 minutes on each side until lightly browned. Pour remaining sauce over chops. Serve with sautéed veggies as a low-carb option, over a serving size of garlic rice, or with a side of roasted potatoes. Garnish with cilantro, and enjoy adding the delicious, potential health benefits of turmeric to your meals! Share this recipe with your clients and friends, stay in the game and never stop learning!
Recipe by: Tammy@thefitprofoodie.com
---
23 May 2017 / NAFC
Wellness Wednesday Recipes - May 2017 | Ed 1
Summertime Beet the Heat Recipe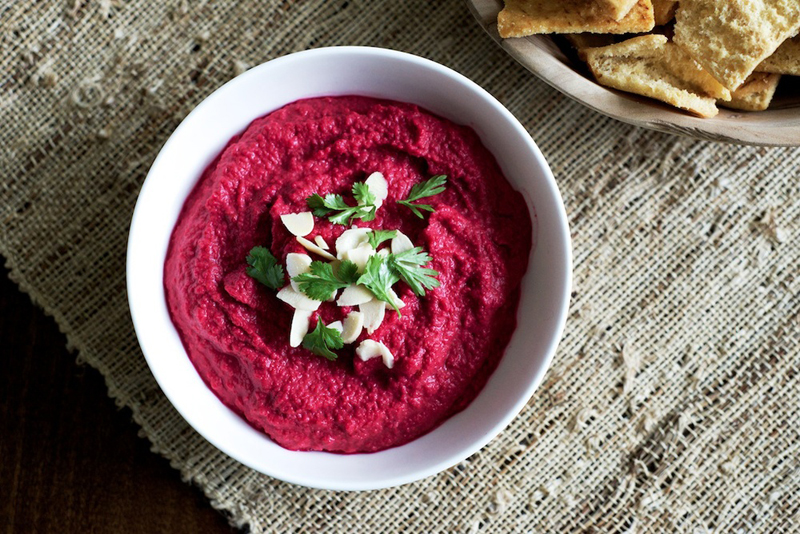 Roasted Beet Hummus Recipe
Eating this powerful anti-oxidant root supports your liver, fights inflammation and cancer. It's on the list of 'most recommended vegetable' lists. Beet roots are not only sweet and earthy, but also pack a powerhouse punch of nutrients that can improve our health in many ways. According to nutritional doctors such as John Douillard, author of The 3-Season Diet, consuming fruits and veggies which are in season, we may optimize on our nutrient absorption. This summer, eat the colors of the rainbow. Go for crimson red beets for supporting and detoxing the liver. The benefits of eating beets include the following:
Liver detoxification and support
Pigments in beets support our bodies' detoxification processes, and helps to purify the blood and liver.
Boosts Stamina
Need a boost to make it through your next workout? Drinking beet juice prior to exercise may reduce the oxygen cost of low-intensity exercise, as well as enhance tolerance to high-intensity exercise.
Fights Inflammation
Beet contain nutrients that helps protects cells, proteins, and enzymes from environmental stress. It's also known to help fight inflammation, protect internal organs, improve vascular risk factors, enhance performance, and likely help prevent numerous chronic diseases.
Rich in nutrients and fiber
Beets are high in immune-boosting vitamin C, fiber, and essential minerals such as potassium which is essential for healthy nerve and muscle function; they're also rich in manganese which is supports healthy bones, liver, kidneys, and pancreas functions.
Lowers Blood Pressure
Drinking beet juice has been shown to lower blood pressure as well as improve blood flow.
Reduces risk for cancer
Research says, the powerful phytonutrients that give beets their deep crimson color may help to ward off various forms of cancers, including pancreatic, breast and prostate.
This beet hummus recipe is so simple and the end result is as vibrant as it is delicious. Serve with crudités, mixed veggies or gluten-free crackers. You may also use tri-colored carrots, cauliflower and/or celery to enhance flavors. Top with a good quality olive oil, Herbes de Provence and/or pine nuts. This makes one generous sized bowl for dipping and sharing.

Ingredients:
1.5 cup red beets
1 15oz. can of organic chick peas drained and rinsed
4 cloves garlic, skin on
4 cloves garlic, peeled & minced
4 Tbsp. fresh lemon juice
⅓ cup Tahini
¼ cup olive oil, reserve more for roasting garlic & beets
¼ cup water
1 tsp each of sea salt & pepper to taste
1 Tbsp. Herbes de Provence seasoning
1 Tbsp. good quality olive oil
Preparation:
Pre-heat oven to 400°. In a small bowl using your olive oil sprayer, coat the beets and skin-on garlic and toss with a pinch of salt and pepper. Place on a small baking sheet and roast in the oven for 35-40 minutes until the beets are fork tender. Remove from oven and set aside. Using your blender, add the chick peas, and all the ingredients and blend until smooth. If consistency is too thick, add a little more water to the blender.
Chill the mixture in the refrigerator and when ready, scoop into the prettiest bowl, and garnish with pine nuts, olive oil and Herbes de Provence seasoning. Take eating the colors of the rainbow to the next level, eating the way nature intended. Learn more about liver health, inflammation-fighting foods and nutritional coaching today. Both your liver and your clients will thank you for it!


Recipe by: Tammy@thefitprofoodie.com
---
1
2
3
4
5
6
7