16 Apr 2018 / joe
Uplift Yourself in Upward Facing Dog
1 Yoga Pose to Approach with Caution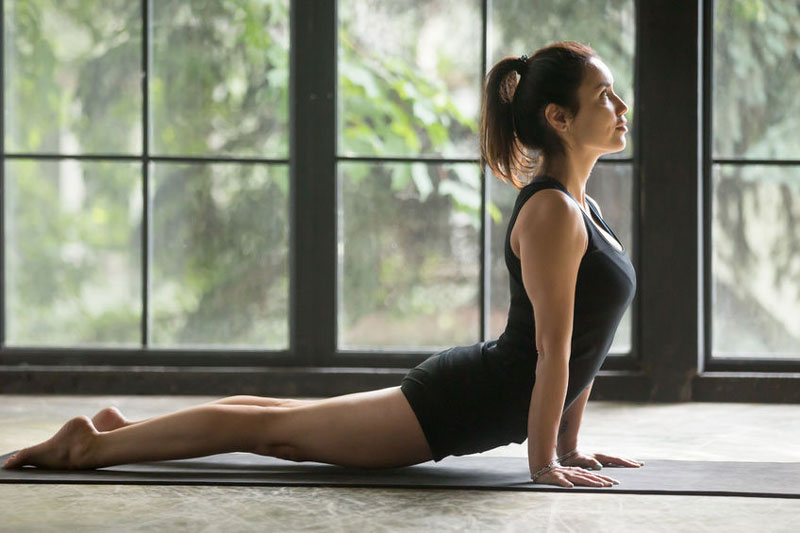 Copyright: fizkes / 123RF Stock Photo


1 Yoga Pose to Approach with Caution
Upward Facing Dog is a backbend that offers many benefits. Doing this consistently can improve posture, aligns the spine, stretches the chest, shoulders, abs and hip flexors. When applied properly, this yoga pose can be physically and mentally uplifting. This pose is a great healthy back exercise for which most students will need clarification. It is not always clear when to 'squeeze this' or to 'let go of that' especially when yoga offers so many areas to focus on. For this move, instructors must cue students to let go of their glutes. The reason for this has to do with allowing the SI joint (sacroiliac joint) to articulate during this movement. This is a very important point that many instructors over-look.
The sacroiliac joint is where the sacrum forms joints with the top of the pelvis. These joints are the main junctions where the weight of the entire upper body transfers down to the legs and serves as an attachment place for many ligaments and tendons. Comprised of four vertebrae that are fused together, the sacrum is important as it supports the entire spine as its 'home' base structure. It has also been referred to by doctors as the 'sacred bone' supported by ligaments, not muscles. It is interesting to know that this joint is intelligently designed to articulate, but it's also supposed to be stable. Learn more about this crucial joint and more in NAFC Yoga200™ Interactive course, and get your students safely and effectively into poses using yoga principles of alignment.


Pro Tip: When explaining any pose, aim for few words and fewer metaphors.
Here's a simple way you can apply 'keeping it simple' using NAFC ANSER™:
A- (Align joint) center of heel in line with 2nd toe
N- (Neutral spine) neutral pelvis
S- (Square hips) Feet hips-width apart
E- (Engage) Contract quadriceps, release glutes
R- (Retract) draw shoulders back and down
Challenge your cuing skills. Try 'blind cuing' by closing your eyes, and using 20 words or less (like the above example) per exercise. Teach your students how to feel their movements, as opposed to thinking about them. Good luck and be sure to let us know how you've succeeded in getting others out of their head into their bodies!
Written by: Tammy LeBoss, The FitPro Foodie
---
15 Apr 2018 / joe
3 Things to Know When Working with Diabetic Clients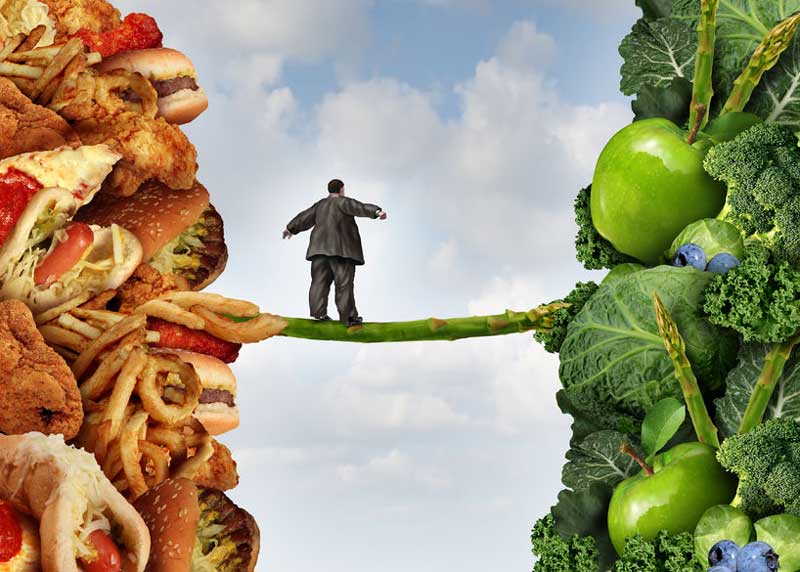 Copyright: lightwise / 123RF Stock Photo

Symptoms of Hypoglycemia
1.) Symptoms of Hypoglycemia
Prevention of hypoglycemia is important for a safe exercise program for someone who has diabetes. Anyone taking insulin or an oral medication that may cause hypoglycemia should be aware of symptoms and how to manage this situation especially during exercise. Hypoglycemia occurs when glucose levels are < 70mg/dl. This condition may become worse if not treated. Prevention is the best intervention. Symptoms may include:
sweating
shaking
dizziness
a headache
confusion
irritability
hunger
personality change
weakness
vision changes
seizures and/or loss of consciousness
2.) Exercise Blood Sugar Guidelines
Blood glucose should be checked and treated if the reading is below 70 mg/dl.
Treatment: It is recommended to follow the "Rule of 15":
Eat 15 grams of carbohydrate, wait 15 minutes, then eat another 15 grams of carbohydrates if there is no improvement in symptoms. (Lobb-Oyos 2012)
When exercising, blood glucose levels should be at least 100-110 mg/dl.
If not, a carbohydrate should be consumed and levels can be rechecked before starting to exercise.
Type 1 diabetics using insulin pumps may need to adjust insulin delivery during exercise and basal delivery rates for up to 12 hours post-exercise to avoid hypoglycemia. (ACSM 2013)
3.) Recommended Pre-Exercise Carbohydrate Intake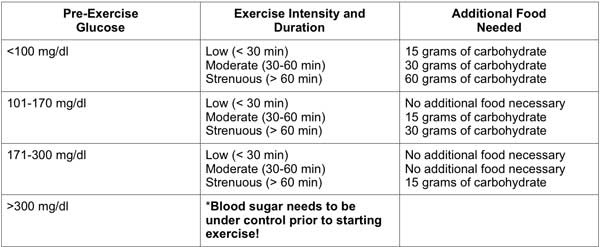 ---
*(Type 1 DM Glucose > 250 mg/dl: Check for ketones; if present, notify physician)
("Diabetes Medications: Guidelines for exercise safety" 2012)
For more information about working with clients with chronic disease, see the Fitness Learning Systems Chronic Disease and Exercise Specialist Certificate Program. Specialize and become recognized as a medical fitness professional. Fitness Learning Systems is an IACET accredited continuing education provider.
Link to Diabetes and metabolic Syndrome course and Chronic Disease Specialist Certificate
---
28 Mar 2018 / joe
How Trainers Touch Lives

3 Transformative Tips on Assisting | 1 Empowering Pro Tip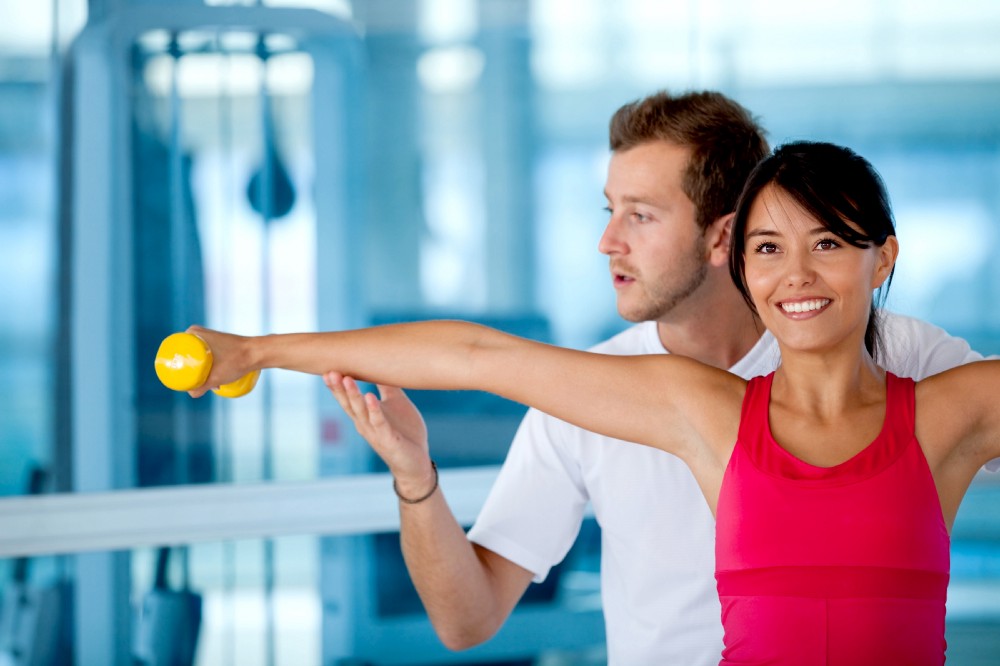 It's a touchy subject when it comes to touching other people.

As fitness professionals, we're in the business of empowering others through human connection.  As personal trainers and coaches, we get to use assists to help students maximize their workouts. Why assist? Every assist, whether verbal, visual, tactile or proprioceptive—is a form of communication that can speak a world of information. This is true whether in a one-on-one or a group class setting. But if done poorly and the proper signals are not getting across, this can be damaging to the trainer-client relationship.
For trainers new and experienced, offering an assist during a workout can be an invaluable experience. It can be a great opportunity to learn more about the body and its strengths and limitations, while also encouraging proper alignment. Remember that before making a decision to actually touch a client, you must first get comfortable with the act of touching others. If you are not, they will feel this, which could become an awkward experience.


A simple touch can ignite courage from within.
The right assist can truly help the student to fully work toward their greatest potential. Whether this takes place in group or a private training session, a subtle touch or cue could make the biggest difference. A small shift can ignite courage that did not exist before.


Pro Tip:
It is not the trainer's job to 'fix' the student. Rather, it's better to give them the guidance that may help the individual to feel, to fully experience each movement. By behaving as a facilitator in this way, we encourage them to take responsibility for their actions; the client gets to take credit for their work— not pass the responsibility to the trainer. This empowers the client or student.


When is it appropriate to touch?
When is it appropriate to touch? Every student will respond differently to being touched. Although some students will respond well to a gentle assist, others may view it as an invasion of personal space. Some shouldn't be touched at all, and in time those students will let you know who they are. Beginners, in particular, must not be harped on about 'proper form' as the pressure to 'perform' could be too much. Trainers need to develop a keen eye, and learn what each client's specific needs are. The type of assistance needed could also vary day to day. Here are 3 ways to tune-in to proper touch:


Listen to the student's needs prior to making the decision to touch. When in doubt on when it's appropriate, it's always a good idea to ask for permission. This will apply when the relationship is between a male to a female, particularly when the trainer is the male. Remember that a spirit of playfulness can be fun, but if in doubt refrain from making or inviting any comments that may later prove to be offensive.
When assisting, notice the difference between the use of fingertips for support, compared to the use of a full hand that could be interpreted as intrusive. Remember, assists should always be with respect, compassion and specific to the individual. Using fingertips for tactile assists rather than the full hand is less invasive and yet serves as effective neuromuscular feedback. Try this when assisting a client who's doing a pull-up; many clients will struggle to draw their shoulder blades down towards the waist without poking the ribs out. By placing the fingertips at the tips of the shoulder blades, applying gentle yet firm upward pressure, can truly transform a pull-up!
When touching or assisting anyone, always be solid in your own body and in your own intentions. Fine-tune your assists and make it a fun, creative process to cultivate over time. Use your special touch as an opportunity for teaching others about connection with their bodies.
Applying the right touch ameliorates connection and support. This builds trust. When trust grows, so does client retention. And moreover, human connection. If you truly want to transform lives and make a difference, use the power of your touch; and know that you can never go wrong when acting from a place of service. 


---
begin
...
prev
1
2
3
4
5
6
7
8
9
10
11