03 Apr 2017 / NAFC
Wellness Wednesday Recipes - April 2017 | Ed 1
Blackberry Salmon Recipe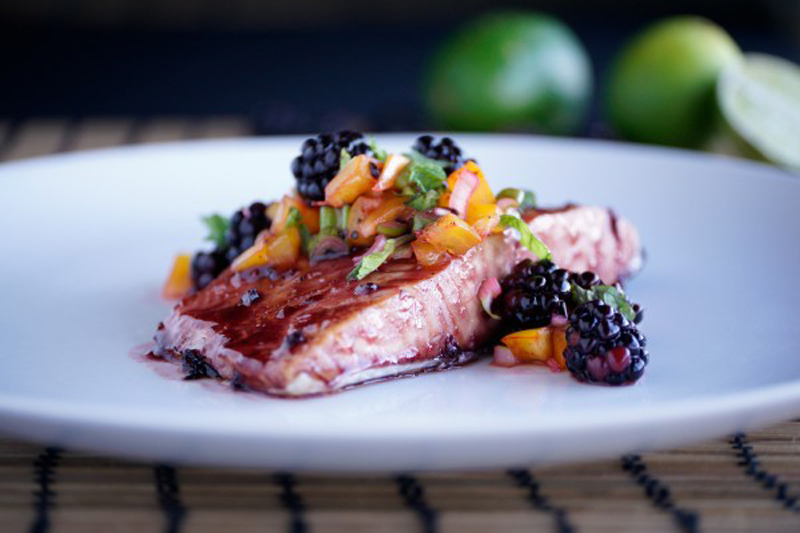 A Tasty Journey to the Pacific Northwest
Are you in a cooking rut? Perhaps it's time to get fancy-shmancy! This recipe will impress your friends and tantalize your tastebuds. Have you ever wanted to try to make a gastrique sauce? This blackberry salmon recipe involves making a delicious sauce called a gastrique. Basically, a gastrique is a fancy French word for a sweet and sour sauce. But don't let the fancy gourmet name fool you. This sauce is easy to make, unpretentious, and full of flavor.
Food can be transporting. What's fun about eating this dish is it'll transport your taste-buds to the Pacific Northwest where some of the world's freshest fishes are harvested and enjoyed. Be sure to buy wild-caught salmon as they tend to be higher in Omega-3's, and better for us. A four-ounce serving of salmon or other fishes high in Omega 3's two or three times a week will supply a beneficial dose of omega-3 fatty acids for most people. This recipe calls for salmon as the main protein, but this blackberry sauce will also compliment the flavors of pork, duck or chicken.
Wild Blackberries are also indigenous to the Northwest where the tastiest ones are ritualistically hunted for and enjoyed. The sauce for this recipe is made by boiling down blackberry puree, red wine vinegar, red wine, and sugar. Keep a jarred supply stored in the fridge and add to healthy dishes to be enjoyed throughout the week. Here's what you'll need:
Ingredients (Serves 2 people):

2 6oz. salmon filets
2 big handfuls baby arugula
1/4 red onion, sliced thin
Nutrition tip: Try coconut sugar or local honey as healthier options :)
For that fancy sauce:

1 cup red wine vinegar
1 cup red wine
1 cup blackberries (fresh or frozen) plus about 1/2 cup extra whole blackberries for garnishing
1/2 cup raw sugar or 1/8 cup (if watching your waistline)
Or try coconut sugar or local honey as healthier options
a pinch of sea salt
To prepare blackberry gastrique sauce: In a saucepan, combine vinegar, red wine and sea salt. Puree blackberries in food processor or blender. Strain blackberry puree into saucepan. Discard seeds/pulp. Bring mixture to a boil. Simmer until sauce is very reduced. Add sugar and continue boiling until sauce is thick and syrupy.
A 'No Fuss' Pro Tip: Haven't got the time to trudge through the forests of the Northwest for blackberries? Try replacing the puree with a blackberry preserve of your choice. About 2 tablespoons should do the trick. If replacing with preserves, remember to remove sugar from the above recipe.
To prepare seared salmon, preheat oven to 350 degrees. Salt and pepper salmon. In an oven-safe saute pan, heat oil on high heat (remember your good oils list. Hint: olive oil isn't it). Sear salmon for about 2-3 minutes, skin side down first, or until crusty. Transfer to oven for about 8-10 minutes or until cooked to your liking.
To assemble, place salmon over a bed of arugula or mixed greens salad, rice pilaf or garlic smashed potatoes. Drizzle with a generous spoonful of yummy blackberry gastrique sauce. Garnish with thinly sliced red onion and/or reserved blackberries. Boost your flavor profiles as well help your heart and brain health with this recipe and Bon appetite from your friends at NAFC.
Be a friend and share this recipe with those who need to up their Omega-3 intake today!


Recipe by: Tammy@thefitprofoodie.com
---
01 Mar 2017 / NAFC
Wellness Wednesday Recipes - March 2017 | Ed 1
Best Ways to Optimize Fats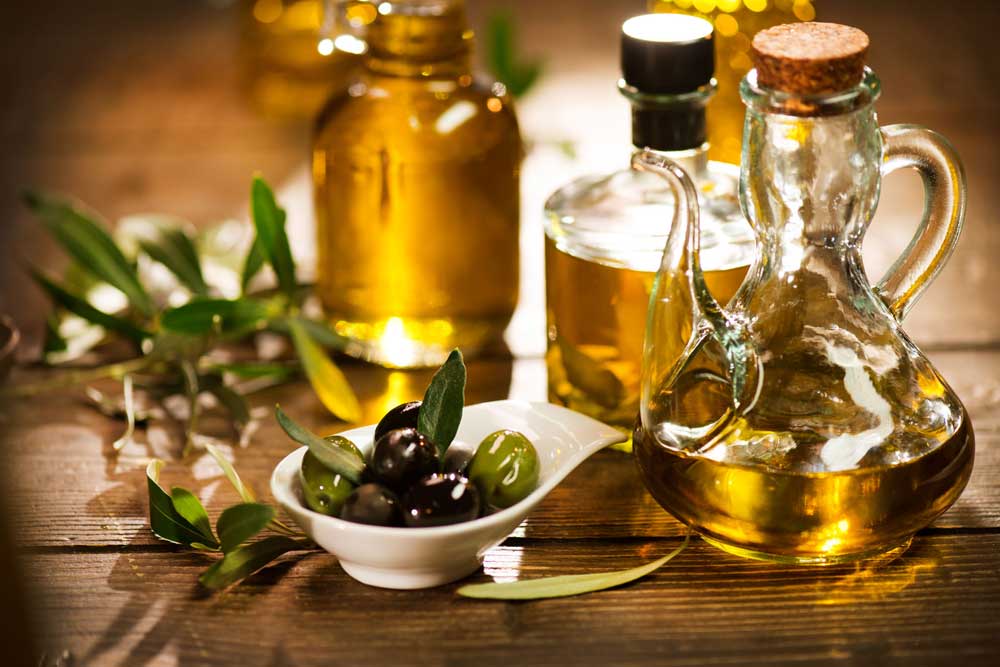 We've all heard about the health benefits of olive oil.
Embraced by many health nuts, 'good fats' such as olive oil, fish oil, coconut oil, avocado and walnuts are known to fight inflammation, reduce risk of heart disease, and reduce the likelihood of Alzheimer's disease.
Many of us cook with olive oil, but did you know that olive oil is only good for us when it's used cold? Increased heat can increase the likelihood of oxidation. In fact, it's important to realize olive oil is not necessarily good for cooking. Why? Due to its chemical structure and a large amount of monounsaturated fats such as oleic acid, heating olive oil when cooking can turn this good fat into a bad one. To learn more, geek out on science with NAFC's Nutrition Coach and find out how heat can actually damage certain foods, changing their molecular structure(s) so they're no longer beneficial to our health.
Concerned about oxidation and rancidity? Try cooking with coconut oil. It is the ideal choice because it's a vegetable fat stable enough to resist heat-induced damage. Protect your oils from going bad; store foods, namely good oils away from sunlight and heat.


Here are more tips for protecting and optimizing your food oils:
Keep in a cool, dark place -darkness is key because light will definitely oxidize the fats in olive oil and other good fats;
Purchase smaller bottles rather than larger to ensure freshness
Immediately replace the cap after each pour, keeping bottles tightly capped;
Add olive oil or other healthy oils to foods after cooking.
Avoid leaving food out exposing it to air; the longer food sits around, the greater the likelihood of oxidation.
The more saturated fat contained in an oil, the less susceptible it is to rancidity.
With respect to light, purchase oils in bottles made from darker-tinted glass. They will usually be dark brown or dark green in glass color. Also, store your oils, almond butter and nuts in a cabinet that is lightproof. With respect to heat, many oils can be kept fresh if stored in the refrigerator where the temperature remains continuously low. To learn more, do your research to understand the chemical composition of an oil. This is will be a key factor in preventing the risk of rancidity and potential health issues. Remember 1 key basic principle involved in saturated and unsaturated fats: The more saturated fat contained in an oil, the less susceptible it is to rancidity. The greater the amount of unsaturated fat in an oil, the more likely it is to become rancid. Remember, fat heals, protects and satisfies us—but only when it's kept fresh for our stomach and taste buds.
Beyond cooking, trainers need to educate their clients on the many functions of fat once converted and stored in the body. Fat does not make us fat. We need fat to metabolize fat. Consuming good essential fats is necessary for our survival. Learn more on the role of fats and other macronutrients in NAFC Nutrition Coach, Sports Performance and Wellness Consultant today. Stay in the game and keep learning!
Recipe by Tammy@thefitprofoodie.com
---
20 Feb 2017 / NAFC
NAFC NewsBlast - February 2017 | Ed 4
1 Training Hack You May Have Overlooked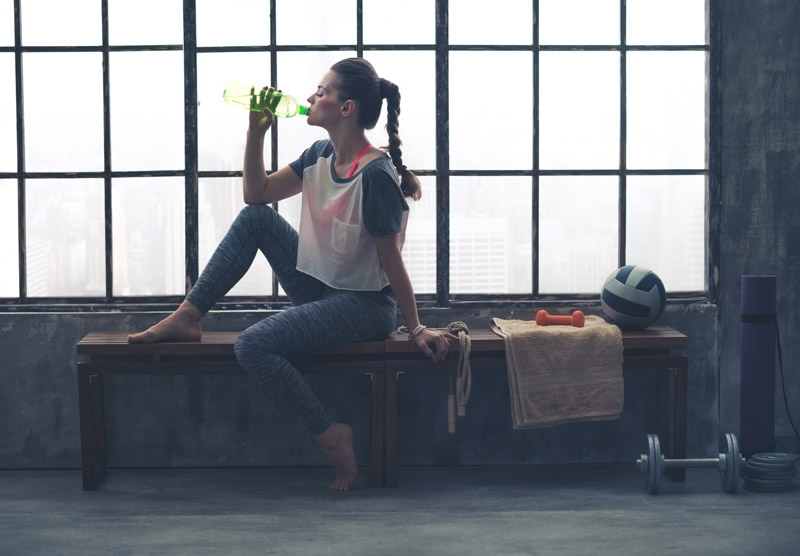 Our ability to lose weight or to gain lean body mass does not happen in the gym
In fact, those hard-earned gains will take place outside the gym, during sleep. Research shows sleep or lack thereof affects recovery, detoxification, metabolism, and our psychological well-being.


But, do you find you're moody and not sleeping?
Our bodies need to properly heal and recover in order to grow. Are you giving your body adequate recovery and healing time? When we're not getting proper sleep, we miss out on optimizing of all of the hard work from our strength-training regimen. If you struggle with getting adequate sleep like millions of Americans, there is one factor you may consider: You may not be fueling the body with adequate carbohydrates. Remember that carbohydrates provide necessary fuel for your muscles and your brain. So removing or limiting them will surely put undue stress on the body and leave the mind ill-prepared for your next workout. Remember that carbs also produce higher levels of serotonin, the body's 'happy hormone,' which is released by the body to promote good mood and better sleep. Serotonin is also a neurotransmitter that gives us the sense of being full after a meal.


While proponents of the low-carb Atkins diet may argue the diet's benefits,
science has proven that without carbohydrates the thyroid glands and thus, our metabolism are negatively impacted. This also increases cortisol levels as well as the likelihood of depression. When avoiding 'bad' carbohydrates, limit or avoid the processed stuff that carries with it a long shelf life. Generally speaking, foods that are stored in boxes with a long shelf life are bad for us. Limiting carbs should not be about dropping body fat nor weight loss. It should be a choice for a healthier lifestyle, and therefore, enjoyed by the body as well as the mind. Remind yourself of the overall end goal: To obtain a balanced diet minus the unbalanced mood swings. For your next workout, rather than pump it up with sports drinks, pump it up with good quality complex carbs such as brown rice, potatoes, yams, and gluten-free oats. Don't beat yourself up for enjoying a serving size of slow carbs at dinnertime, or even bedtime. And remember, for the greatest nutrient absorption combine this with balanced portions of protein and good fats. Enjoy your food, improve your mood and allow both the body and the mind to heal, without the unnecessary guilt.


Pro Tip for Deep Sleep:
Learn to control your nervous system. Turn off your flight-or-flight mechanism (sympathetic nervous system), and turn on your para-sympathetic nervous response. Don't worry, you don't have to be Buddha-like to achieve this. Start by taking 8-10 cycles of full, conscious breaths. Set the right mood. Do this before bedtime and then again upon waking up, and notice the difference.
Lack of sleep can cause hunger, cravings, blood sugar problems, diabetes and thus, weight gain. Learn more about the importance of sleep, performance and recovery in NAFC's Nutrition Coach course. In the meantime, try these 8 sleep hacks according to Dr. Mark Hyman: https://youtu.be/eJzxciAB5gg always continue learning (get your CEC's), and you'll enjoy big gains outside the gym.
---
1
2
3