Wellness Wednesday Recipes - April 2017 | Ed 1
Blackberry Salmon Recipe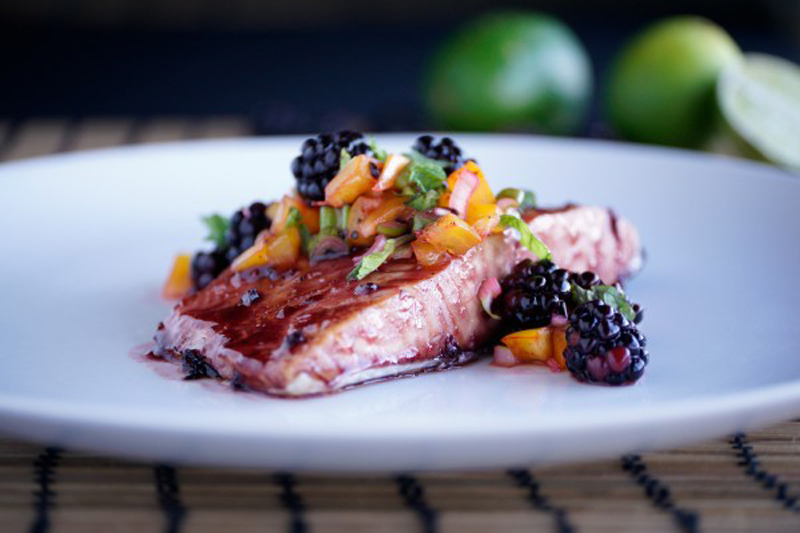 A Tasty Journey to the Pacific Northwest
Are you in a cooking rut? Perhaps it's time to get fancy-shmancy! This recipe will impress your friends and tantalize your tastebuds. Have you ever wanted to try to make a gastrique sauce? This blackberry salmon recipe involves making a delicious sauce called a gastrique. Basically, a gastrique is a fancy French word for a sweet and sour sauce. But don't let the fancy gourmet name fool you. This sauce is easy to make, unpretentious, and full of flavor.
Food can be transporting. What's fun about eating this dish is it'll transport your taste-buds to the Pacific Northwest where some of the world's freshest fishes are harvested and enjoyed. Be sure to buy wild-caught salmon as they tend to be higher in Omega-3's, and better for us. A four-ounce serving of salmon or other fishes high in Omega 3's two or three times a week will supply a beneficial dose of omega-3 fatty acids for most people. This recipe calls for salmon as the main protein, but this blackberry sauce will also compliment the flavors of pork, duck or chicken.
Wild Blackberries are also indigenous to the Northwest where the tastiest ones are ritualistically hunted for and enjoyed. The sauce for this recipe is made by boiling down blackberry puree, red wine vinegar, red wine, and sugar. Keep a jarred supply stored in the fridge and add to healthy dishes to be enjoyed throughout the week. Here's what you'll need:
Ingredients (Serves 2 people):

2 6oz. salmon filets
2 big handfuls baby arugula
1/4 red onion, sliced thin
Nutrition tip: Try coconut sugar or local honey as healthier options :)
For that fancy sauce:

1 cup red wine vinegar
1 cup red wine
1 cup blackberries (fresh or frozen) plus about 1/2 cup extra whole blackberries for garnishing
1/2 cup raw sugar or 1/8 cup (if watching your waistline)
Or try coconut sugar or local honey as healthier options
a pinch of sea salt
To prepare blackberry gastrique sauce: In a saucepan, combine vinegar, red wine and sea salt. Puree blackberries in food processor or blender. Strain blackberry puree into saucepan. Discard seeds/pulp. Bring mixture to a boil. Simmer until sauce is very reduced. Add sugar and continue boiling until sauce is thick and syrupy.
A 'No Fuss' Pro Tip: Haven't got the time to trudge through the forests of the Northwest for blackberries? Try replacing the puree with a blackberry preserve of your choice. About 2 tablespoons should do the trick. If replacing with preserves, remember to remove sugar from the above recipe.
To prepare seared salmon, preheat oven to 350 degrees. Salt and pepper salmon. In an oven-safe saute pan, heat oil on high heat (remember your good oils list. Hint: olive oil isn't it). Sear salmon for about 2-3 minutes, skin side down first, or until crusty. Transfer to oven for about 8-10 minutes or until cooked to your liking.
To assemble, place salmon over a bed of arugula or mixed greens salad, rice pilaf or garlic smashed potatoes. Drizzle with a generous spoonful of yummy blackberry gastrique sauce. Garnish with thinly sliced red onion and/or reserved blackberries. Boost your flavor profiles as well help your heart and brain health with this recipe and Bon appetite from your friends at NAFC.
Be a friend and share this recipe with those who need to up their Omega-3 intake today!


Recipe by: Tammy@thefitprofoodie.com
---