NAFC NewsBlast - February 2017 | Ed 2
The Way of the Warrior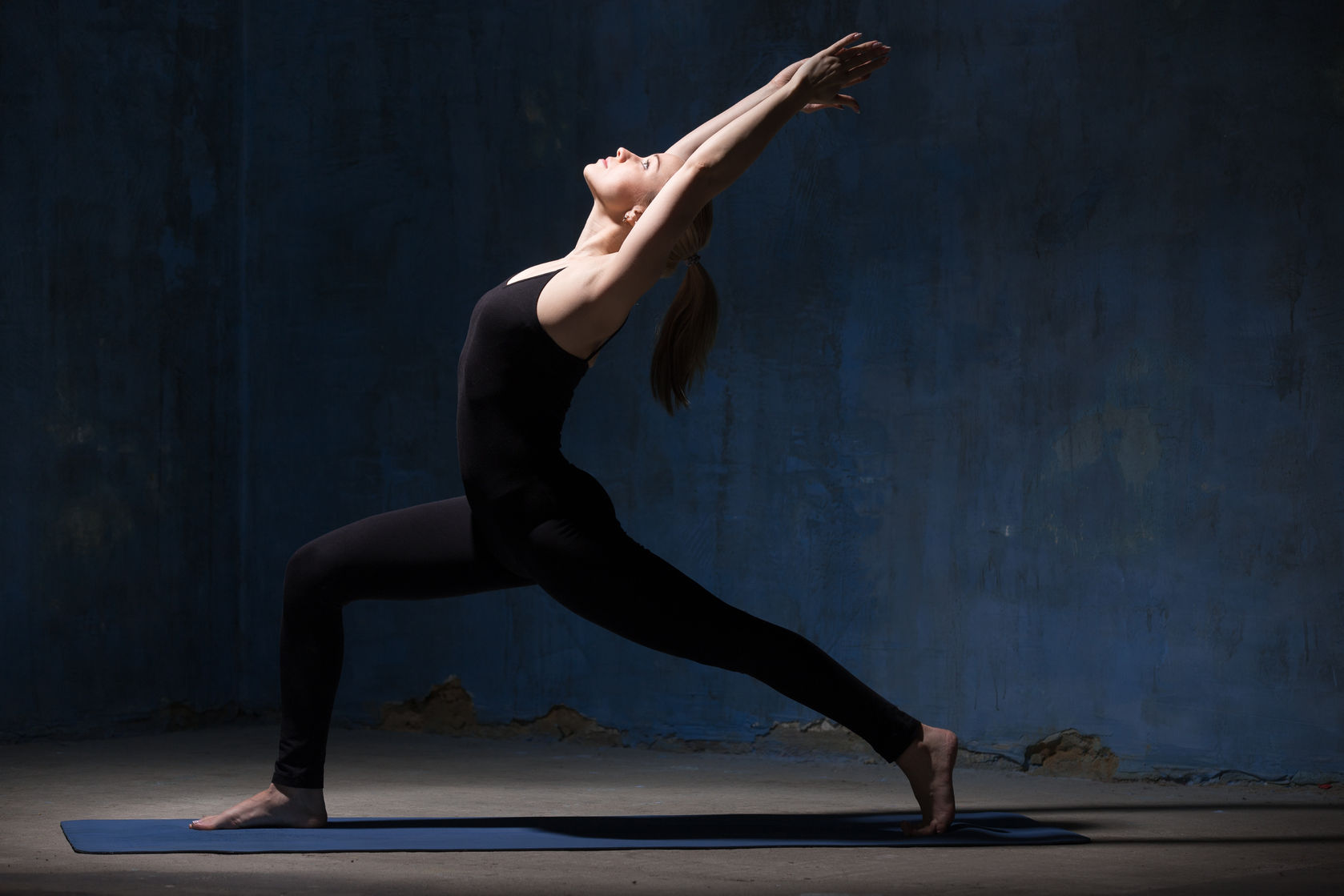 How to Flex Your Power in Warrior 1
"If you spend too much time thinking about a thing, you'll never get it done." --Bruce Lee.
Reaching for the stars to achieve a goal can feel over-whelming. Instead of shooting for the stars to get everything done, completed or perfect, try starting with The Power of One (1). For example, choose One Focus, One Project for One Week, or One Month. With only so much time in a day, why not get up, take a mini-break and do One Yoga pose? To counter a hectic day after sitting or driving a lot, consider including Warrior 1 into your busy schedule. A focused application of Warrior 1 (or Crescent Lunge as a modification) lengthens your hip flexors which can ease back pain.
The modern day warrior lives in a sedentary society where many battle tight hip flexors. Most of us don't take the time to stretch them out. According to physical therapists, tight hip flexors could be a major factor in chronic or recurring back pain. The hip flexors become tight when the hips are constantly placed in a flexed position—such as during sitting, driving, or even sleeping.
Like any other muscles, hip flexors will shorten structurally if they are not stretched. However, if we incorporate Warrior 1 into our regular practice, we'll stretch the hip flexors. This helps them gradually return to their normal length and thus, can ease backaches.
As fitness instructors, the battle continues when cuing is not made simple. Common cues for Warrior 1 include the following:
Square up the hip and keep the outer edge of the back foot down;
Drag isometrically the back foot toward the front mat to help staying strong in pose;
Connect and lift through the inner arch of the back foot.
Although well-intended, the above cues can be quite vague especially to new students. Instructors may also cue students to square the hips hip-width apart.


A Pro Tip: For better accessibility in squaring the hips, try widening your stance; move the front and back feet further apart. This will allow more space in the low back/sacrum.
1 Solution Involves Tipping Your Hips
Correcting an anteriorly tilted pelvis can help decompress your lower back. Before entering Warrior 1, practice a strong posterior pelvic tilt. Stand with your back to a wall, moving from an anterior to a posterior tilt. Tip your hips using your fingertips to lift your ASIS (hip points) up and away from your thighs, pointing your tailbone down the wall. Feel your lower back move onto or toward the wall. This action can feel good as a warm-up while also building on both mobility and awareness.
To win the battle of tight hips, learn to flex your power. Keep learning about the mighty muscles of the hip flexors: the iliacus, psoas, rectus femoris, tensor fasciae latae, sartorius, and the adductors. Learn more about how NAFC Yoga 200™ is making yoga accessible to all. And understand that striving to get some place fast while stuck in an anterior pelvic tilt is a losing battle. Apply the power of Warrior I as a daily 'must do' exercise, and it won't be long before you win the battle against low back pain and grumpy tight hips.


---